When buying things on Shopee, you will certainly be very interested in discount codes. It can be discount codes (15,000, 50,000 VND), % discount codes (10%, 20%), or at least a freeship code to help free shipping. They save a lot when you often shop here. This article will help you synthesize applications to help you hunt Shopee discount codes.
BeeCost
BeeCost is a very good product that you should not miss. The application can help you see product prices over time. What does this mean? You will know what the product was like last month, or even months ago. Thanks to you, you can avoid making a mistake when the store increases the price of the product and then offers a discount of 50%, 70% but the actual price does not change.
If you often buy things on Shopee, don't ignore this utility to avoid buying the wrong price first. This is a Chrome extension.
View details BeeCost
MGGTD
After knowing the exact price, now is the time to hunt for Shopee discount codes. One of the places I often use is MGGTD – an abbreviation for Automatic Discount Code. The reason is because this is a web-based application, so you can access the lookup from your PC, phone without installing anything, and it also supports you to hunt for discount codes on Lazada and Tiki sites. and Sendo.
Usage is very simple, you go to the page and select Search Shopee discount code. Next, you paste all the product links you want to find in the first empty box and break the line with each link.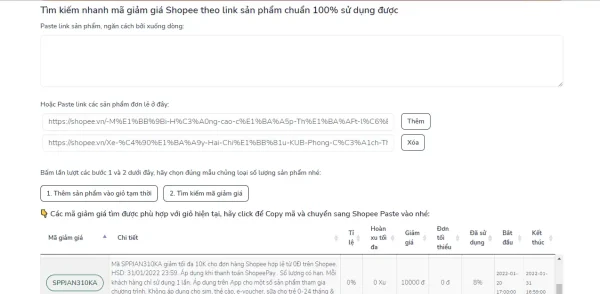 Then you press Search for discount codes is to get the result.
View details of MGGTD
AliPrice Assistant
With a Chrome extension called AliPrice Assistant, you can view the product price history of all Shopee branches in Asia such as Vietnam, Singapore, Philippines, Thailand, Malaysia, Indonesia, Taiwan.
Besides viewing price history, Shopee Price Tracker also supports you to manage purchase orders, discount codes, Shopee coins, shopping carts, and notifications on your account.
See details AliPrice Assistant
Fresh Lemon
Fresh Lemon will help you synthesize promotions, display discount codes and notify when the desired product price is available on four popular domestic e-commerce platforms, namely Shopee, Lazada, Tiki, and Sendo.
When you visit any home page or product page on Shopee, Lazada, Tiki, Sendo, you can view the combined discount codes of each trading floor by clicking the Fresh Lemon icon on the submission toolbar. Browser.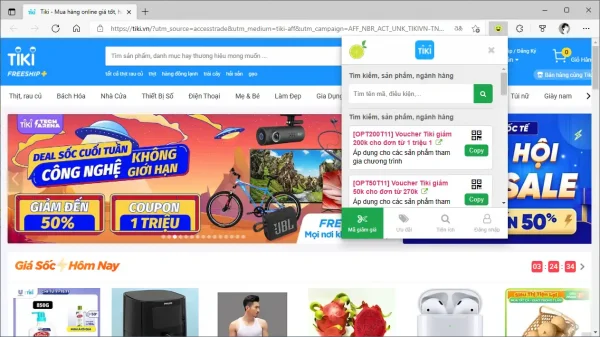 View details Fresh Lemon
Price History
Price History is a BeeCost-like website that you can use to view product prices for the last 1 month, 3 months and 6 months on Shopee, Lazada, Tiki.
This service supports viewing product price history on 3 popular e-commerce sites in Vietnam today, Shopee, Lazada and Tiki with the database for the last 6 months. Price History also supports tracking and announcing the price of certain products when there is a desired price so that you can quickly order immediately.
View Details Price History
Cashbag
The name Cashbag is too familiar to online shopping users when you can get a refund every time you make a successful purchase with e-commerce platforms, travel, … that the utility is associated with.
The way to use Cashbag is to open Cashbag on the app, mobile/computer website and click on the e-commerce site you want to shop. It will redirect you to the website or app of that e-commerce site. You shop as usual and will receive a refund to your wallet upon successful purchase and payment.
Cashbag currently supports getting refunds every time you shop on Shopee, Lazada, Tiki, etc. with the help of the extension of the same name.
View details Cashbag
The above are the sites or services and applications for you to hunt for Shopee discount codes, if you often shop on e-commerce sites, you should not ignore them. In addition, if you know other apps and services with similar features, don't hesitate to leave a comment to share with other friends to "hunt deal" with!