What are Live Worksheets?
Online learning is nothing new, but it is getting more and more attention during the current COVID-19 pandemic. Live Worksheets is a long-standing learning platform, it is for teachers that can create assignments or use shared assignments for students to work on without an account.
However, Live Worksheets does provide a feature to create classrooms to manage students and assign assignments to their students.
How to use Live Worksheets:
In the article, Digital Experience will provide a brief guide on how to create assignments and participate in the classroom.
1. With teachers:
Before you start, you need to know the following.
– You need to pre-compose the exercise content in the Word file, if the answer is in the answer form, leave the answer section and then refine it further in Live Worksheets.
– You can use built-in exercises that are captured and edited later with Live Worksheets.
– You can use available exercises shared on Live Worksheets to make workbooks for students.
– You need a Live Worksheets account.
Open Live Worksheets home page, you will see publicly shared exercises on the site. Live Worksheets have users from all over the world, so you can filter assignments by your desired language, including Vietnamese. You click All languages ​​to select and view exercises in that language.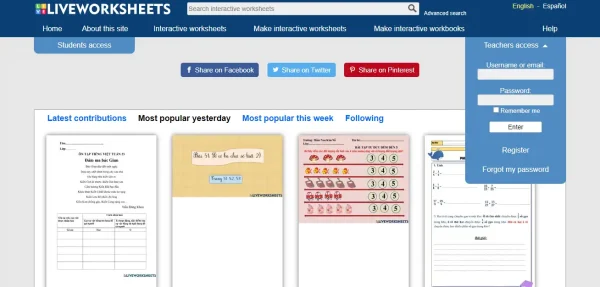 To create an exercise, click Teachers access > click Register to register for an account first. Then you confirm the account in the registration email to activate. Returning to the Live Worksheets home page, you can see how to submit shared assignments.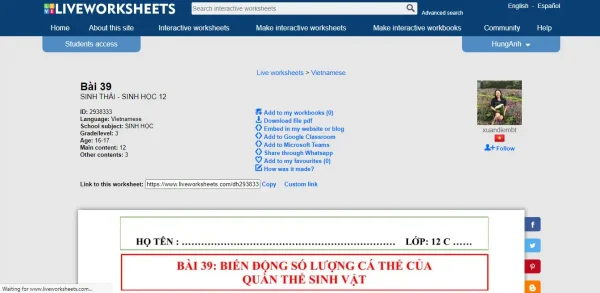 In the viewport, there are options:
– Add to my workbooks: Add this exercise to your workbook.
You will not be able to add because you have not created a master workbook. Workbooks are used for students to do homework.
– Add to Google Classrooms: Add assignments to Google Classrooms.
– Add to Microsoft Teams: Add assignments to Microsoft Teams.
– Share through WhatsApp: Share to WhatsApp.
– Download PDF files: Download the exercise in PDF format.
– Add to my favorites: Add to favorite exercise list.
Below is the sharing link, which you can copy and send to your students. To do the test, just answer, tick, etc. But this is difficult to manage, you can ask students to take pictures to check or create and share classrooms.
Create an exercise:
Live Worksheets don't have editing tools so you have to make them ready and then upload them to the website and make further edits like creating answer boxes.
– First, click Make interactive worksheets > Get started.
– You select the exercise file (pdf, jpg, png) by clicking Choose file > clicking Upload.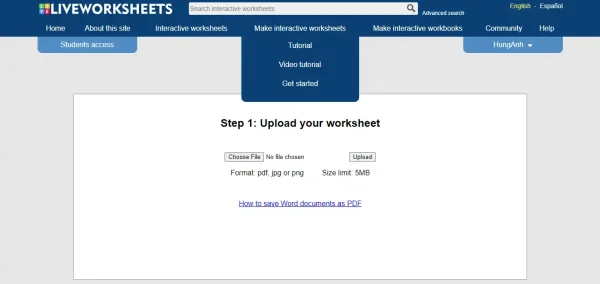 – After uploading, the editing interface appears, you can drag the cross to create a reply box.
– Satisfied, click the Save icon.
– Then you are asked to choose the display form, if it is public then click the button on the left, and vice versa.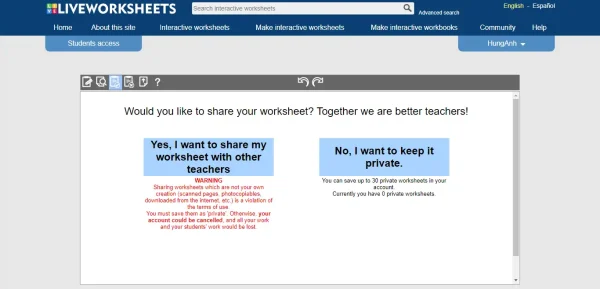 – The remaining steps are to provide information about the assignment, you must enter all of it (eg Grade/level, enter the class or level, Title, enter the assignment name, Language select the language in the exercise, etc.) ).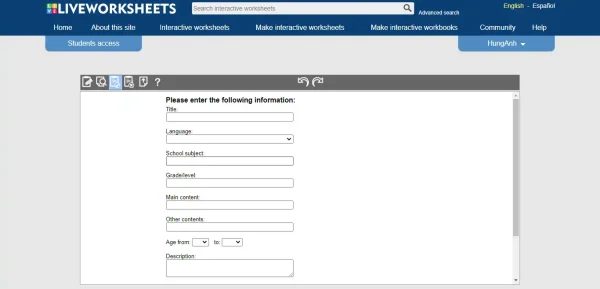 – After all, click Save to save.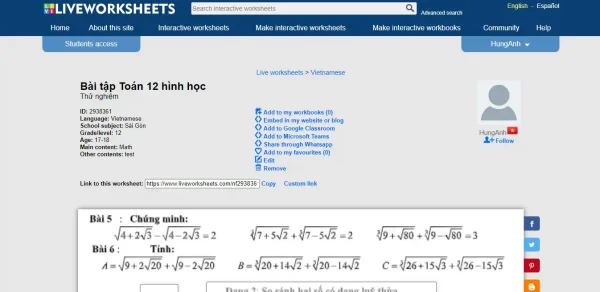 Once saved successfully, you can check the exercise, get the embed code in your website/blog or add it to your workbook.
Create a workbook:
When you want to give assignments to students, they must be in some workbook, for example, math exercises, you create a math workbook.
– You click Make interactive workbooks > Get started.
– You enter the title of the book in the Title box.
– Finally, click Make new workbook.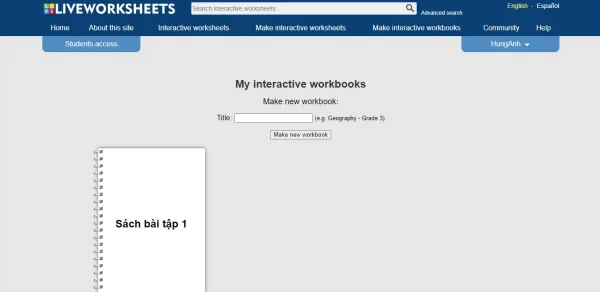 You can now add assignments to your books using the Add to my workbooks option from the shared homework or your created assignments. To review the created assignments, click on the account name in the upper right corner > select My worksheets.
Create classrooms, assign assignments:
You should create classrooms to manage and assign appropriate assignments to your students.
– Click on the teacher account name > select My students.
– You click Add group to create a class/study group.
– Then, you choose the login method for students.
+ Add students: You enter the name, username and password and then select the workbook for the student.
This applies to a wide range of students.
+ Invite students: This way, you will copy the room code and send it to your students.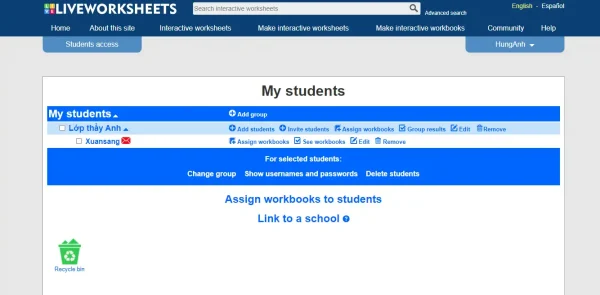 Participants must create an account (no email required) and have permission to access the room from the teacher to be able to take the test. When inviting students in this way, you have to take the extra step of selecting workbooks for each student by clicking Assign workbooks > Save.
If you want to know which students you assign assignments to, click Group results.
2. With students:
If you are a learner and receive the assignment link from the teacher, click Students access.
Then, you log in with the information provided by the teacher including username and password. If it is the room code, click Register as a student to enter and create account information. Then you wait for your teacher to agree that you can see the workbook.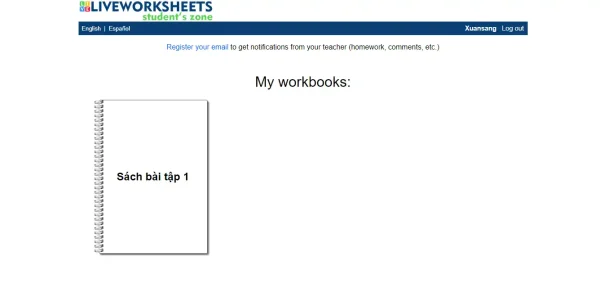 Click on the workbook to do the exercise.
Epilogue:
Live Worksheets is a good learning platform, especially when it comes to supporting a lot of Vietnamese exercises. It is a pity that the website is quite heavy and quite confusing at first use. Hopefully, Live Worksheets will improve the interface and optimize the web.