Microsoft Edge itself also has a reading mode called Immersive Reader that you can activate from the F9 keyboard shortcut. Microsoft Edge's reading mode is very good, it supports many features such as checking grammar, translating, listening to reading, reading focus, viewing dictionary on photos, …
However, the Microsoft Edge reading mode background theme only has a yellow background, and if the browser's reading mode fails, you can use Readl Reader mode instead. This is an extension available on the Microsoft Edge browser add-on library page.
You enter this > press Get > Add extension to install Readl Reader mode.
After installation is complete, open the article you want to view in reading mode > click the Readl Reader mode icon on the browser toolbar.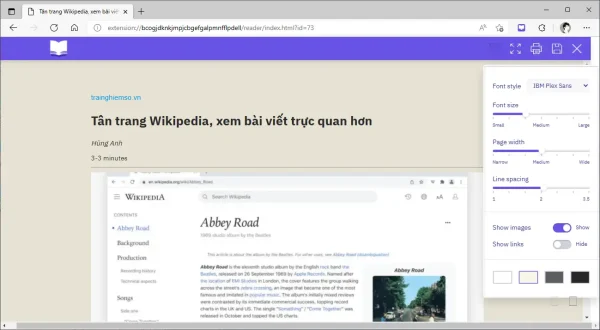 The reading interface appears in the current tab with a white background and highlighted bold headings. You click the icon Type control In the upper right corner to open a tweak interface that allows you to change the font style, text size, line spacing, page width, toggle the display of links and images, choose a background theme.
In addition, you can open the interface to read it in full screen, print or save the article in an HTML file. When you want to exit, press the X button on the blue toolbar.