AirTags are growing in popularity. In addition to being a device that keeps track of your belongings, it can also act as an NFC trigger and assist you in everyday tasks, like calling someone, creating a shopping list, etc. This will help you turn AirTags into an "NFC trigger" for automation on iPhone.
The principle of this lesson is like: Imagine you are going to the office and tapping on the AirTag attached to your pocket. Immediately, iPhone will open Maps and display the commute time. Or, while you're away from the office, it will automatically turn off the Focus feature on your iPhone. Pretty good, right?
Note: NFC is supported by iPhone 7 Plus and later, but the Background Tag Reading feature needed in this article only works on iPhone XS, XR and later. Therefore, this trick will only work for iPhone XS, XR and later.
How does AirTag work as an NFC trigger?
AirTag contains a number of proximity sensors, including near-field communication, aka NFC feature, to accurately locate your lost items. So when someone uses an NFC reader on an AirTag, a message like this pops up on their screen.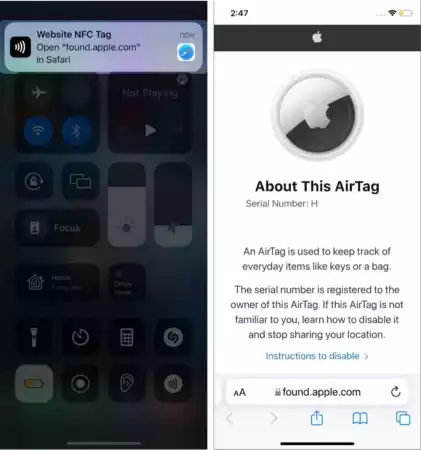 Thanks to the Background Tag Reading feature, iPhone can automatically detect a nearby NFC tag. Cleverly, Apple has combined this feature with automation in the Shortcut app.
So when AirTag gets close to iPhone, it can trigger automation and do any assigned task like open apps, show battery percentage, turn off Wi-Fi, etc.
How to turn your AirTag into an NFC trigger
Go to the app Shortcuts > select item Automations.
Press + and select Create Personal Automation.
Scroll down and tap NFC.
Click Scan.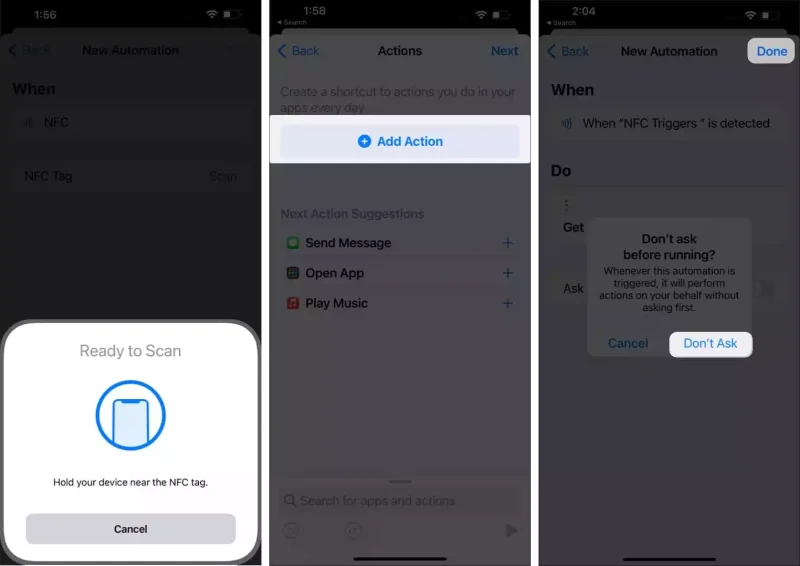 The Ready to Scan section is displayed. Now you choose iPhone's back (above) and AirTag (white part).
Once the AirTag is recognized, give it a name and press OK.
Then press Next to continue.
Press + Add Action and add tasks.
Remember to turn off the toggle button Ask Before Running and touch Don't Ask.
Click Done to save your automation.
That's it, now when you touch your iPhone to AirTag, it will immediately trigger the automation and perform your assigned task.
Take advantage of this feature
Call or text someone.
Open any to-do app and see what's pending, done, etc
Enable/disable Focus, Bluetooth connect/disconnect, Wi-Fi.
Automatically start workouts when you get to the gym or start cycling.
Get directions home/office from anywhere and estimated travel time.
You can combine all the innovative uses of AirTags and NFC tags and create something to suit your needs.