The demand for smartphones, tablets and technology accessories, etc., increased sharply at the beginning of 2022. In particular, when integrating more shocking offers to welcome New Year's Eve such as many smartphones, laptops, and accessories, up to 50% off. make the market more vibrant.
According to a representative from Viet Mobile system, this Tet holiday has a lot of technology devices sold with shock incentives for customers. For example, phones are down to 5.5 million dong, accessories are down to 50%, signaling a bustling new year shopping season.
It is known that this offer only takes place for 4 days from December 30 to January 2, customers who plan to buy smartphones, tablets, etc., this is an opportunity not to be missed.
Phone reduced to 5.5 million
During the promotion program to welcome New Year's Eve 2022, customers shopping for mobile phones at Mobile Vietnam will enjoy extremely good prices. For example, the duo iPhone 12 Pro 512GB and iPhone 13 Pro Max 256GB reduced to 5.5 million dong, the price was only 30.99 million dong and 32.99 million dong, respectively. iPhone 11 also contributed with a decrease of 1.6 million, selling price from only 14.39 million.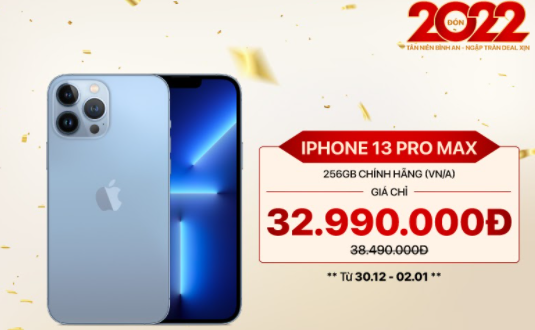 In addition to flagships from Apple, Android models also have extremely good prices. Specifically, Samsung Galaxy S20 FE and Xiaomi Mi 11T also reduced by 3.5 million and 1.4 million dong, respectively, the selling price was only 11.99 million dong and 9.59 million dong. The duo OPPO A55 and A95 reduced by 600 thousand dong, OPPO Reno 6Z also reduced directly to 1 million dong in the selling price, priced at 4.39 million dong, 6.39 million dong and 8.49 million dong, respectively.
Laptop, Macbook, iMac reduced to 11.5 million
From December 30 to January 2, customers who buy laptops, macbooks and iMacs at Mobile Viet will enjoy unprecedented preferential prices. Laptop models from Asus, Dell, Acer and MSI will have reduced prices ranging from VND 500,000 to VND 2.4 million. For example Acer Nitro 5 I5-5600H decreased by 2.3 million VND, Dell G15 Ryzen Edition 5515 decreased by 2.4 million VND. The price is only 22.69 million VND and 28.59 million VND, respectively.
Macbook and iMac are no less competitive when the MacBook Air 2020 13-inch M1 is reduced by 2.7 million VND, the price on the floor is 25.29 million VND. Especially, the 27-inch 5K Core i5 iMac 2020 has a shocking price reduction of up to 11.5 million VND compared to the list price of 49.99 million VND, only 38.49 million VND left. This is good news for designers who intend to upgrade their "war machine".
Tech accessories up to 50% off
In addition to phones, laptops, and iMacs, technology accessories such as music speakers, wireless headphones from major brands such as Apple, Sony, JBL, etc. are also sold at a very good price when reduced by more than 43% compared to the previous year. with list price.
Particularly, the genuine Mazer 20W 3 in 1 charging cable combo set is up to 50% off, only 490 thousand VND, 500 thousand VND cheaper than the original selling price.
Besides music speakers, wireless headphones and cable chargers, power banks from reputable brands such as Anker, Aukey and Mazer, etc. also have extremely low prices in the New Year peace program – Full of deals genuine when reducing up to 44% of the selling price from only 149 thousand VND.
Along with the shocking price offer from the program to welcome the New Year 2022, buyers when shopping at Mobile Viet are also provided with purchase policies suitable for each customer such as 0% interest installment payment. , Trade-in new old collection with the highest product price on the market, optimal financial solutions for customers who want to own an iPhone.
It is known that now, when Trade-in customers come to life, they will receive an additional 300 thousand VND deducted directly from the selling price. Thus, in the case of an iPhone 11 Pro Max, along with a gift of 300 thousand VND directly deducted from the selling price, customers only need to compensate for an additional 9.97 million VND to be able to own the old iPhone 12 Pro Max right away. .